YING HAN INDUSTRIAL CO., LTD.
瑩頷股份有限公司

886-3-4995595

886-3-4995560

No.80, Gong 7th Rd., Longtan Dist., Taoyuan City 32559, Taiwan

http://www.yinghan.com.tw
About Us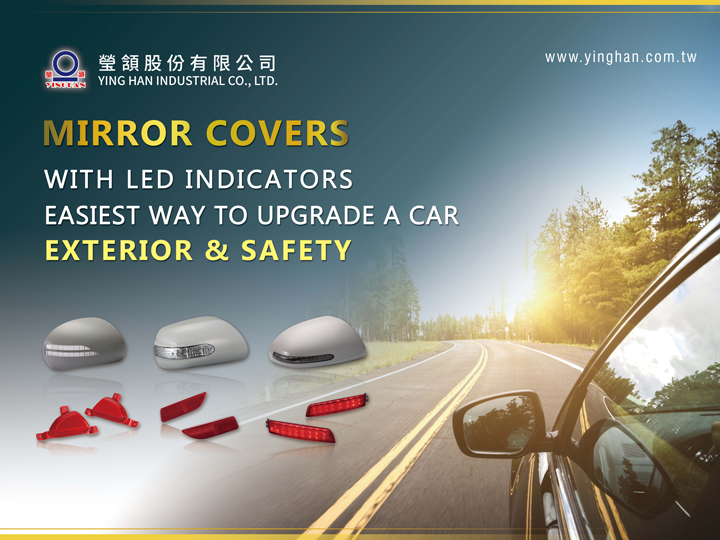 Founded in 1999, Ying Han Industrial Co., Ltd. specializes in developing and manufacturing high-quality, stylish and innovative automotive mirror covers with light-emitting diode (LED) indicators and accessories, as well as LED bumper lights, aerodynamic body kits etc., for major Japanese and Korean passenger-car models.
The company claims to have been strengthening R&D to develop trend-setting products to enhance global competitiveness, which also enables the company to deliver products that meet CE or E-Mark standards, proving safety and quality levels measure up to global standards.
With ample R&D and design skills, Ying Han also steadily develops innovative accessories for popular makes and models, claiming to fully meet original equipment (OE) qualitative level. While developing more new products for a wider range of makes and models, especially Toyotas, Nissans, Lexus, Mazdas, Infinitis, Fords etc., the company claims its quality products are selected by pre-delivery inspection points worldwide to accessorize, enhance newly sold cars.
The company also supplies interior and exterior accessories, mirrors, decorative lights, reflectors, grilles and rear guards, spoilers, performance-tuning parts and accessories, and mirror housings etc.
Ying Han welcomes OEM and ODM projects, and guarantees to supply quality items that fully meet requirements backed by excellent service, a core competitiveness. (QL)
Follow Us
YING HAN INDUSTRIAL CO., LTD.
瑩頷股份有限公司

886-3-4995595

886-3-4995560

No.80, Gong 7th Rd., Longtan Dist., Taoyuan City 32559, Taiwan

http://www.yinghan.com.tw